What you should know about the shimmering, refined sound of Meinl HCS Bronze cymbals
You see it and can't walk away. Just admiring your glorious drum and cymbal setup can trigger your imagination, and you have to play now. Of course, the right set of shiny bronze cymbals plays a huge part in crafting the perfect drum kit for moments of inspiration. Would the right set in your mind refer to musicality, modern sound, durability, great feel, or variety with good looks?
Turns out, you can have it all AND at a great value.
B8 bronze
The enticing glow of Meinl HCS Bronze cymbals comes from B8 bronze. "B8" stands for the mix of metals used in the cymbal making process, which in this case is 92% copper, 8% tin. Okay, we know you're not here for a materials lesson (ugh, percentages), and we realize it's not ALL about looks. So what does this B8 business have to do with sound?
B8 bronze = bright, clear, uniform, refined and articulate cymbal sounds.
These cymbals are straightforward, and they are ideal for beginners or intermediate players but can also be useful for advanced drummers.
Why are they great for beginner and intermediate players?
You will get an instant, clear response that is not clouded with complex sounding tones, which is great for listening to yourself to make sure all of your notes are even and on the beat.
The hihats give you that crisp "chick" sound, the crashes deliver a powerful punch and the rides respond with a cutting "ping".

We didn't stop at the standard hihat, crash, ride and splash selection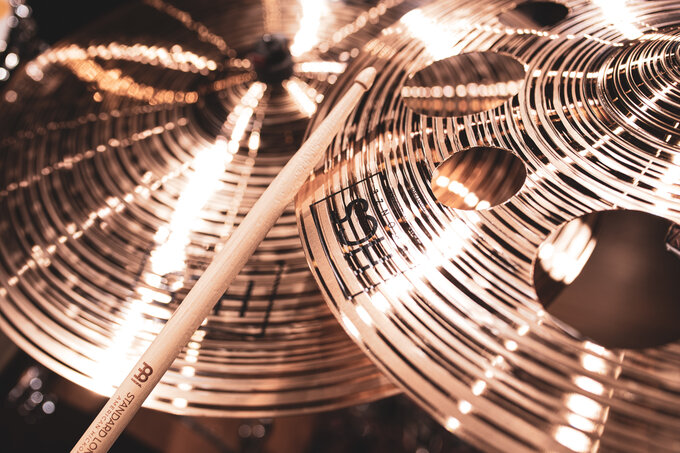 Huge effects cymbals assortment
While HCS Bronze standard crashes, splashes and chinas deliver a great mix of sound, you can unlock the world of trashiness with trash crashes, trash splashes and trash chinas.
These "effects cymbals" are stamped with hole cut-outs that dry the cymbal sound, which means they reduce sustain while adding an earthy bite (aka, "trashiness"). Perfect as stand-alone cymbals or stack them directly on top of or underneath another cymbal for a sloshy, trashy effect.
We have an array of hihats for you to choose from within HCS Bronze. Due for special mention are Soundwave Hihats that feature a waved edge on the bottom cymbal.
The waved design allows for air to escape from between the cymbals as you play them, which gives you a super crisp "chick" sound.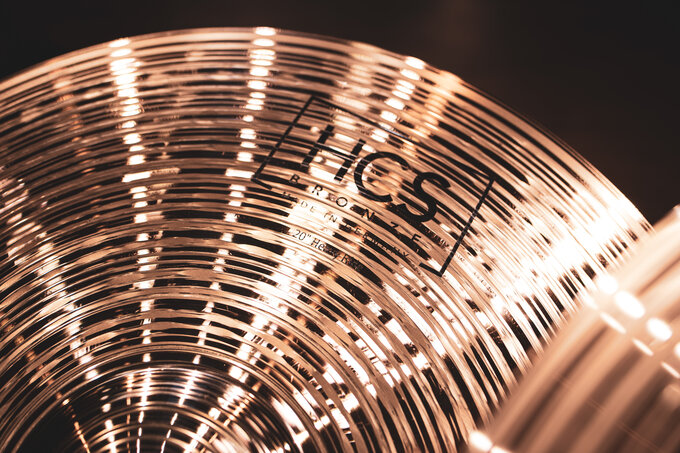 Rides and crash-rides fill out the time keeper cymbals, and they range from 18" - 22".
Specially weighted rides including Heavy and Medium Heavy give you the option of adding a ride to your kit that can cut through any mix of sound.
Their "ping" response is unmatched, while the bell of the cymbal is loud and clear.
Three pre-configured sets are available too: A Basic Cymbal Set, a Complete Cymbal Set, and an Expanded Cymbal Set providing the main cymbal elements used for a drum set configuration at an exceptional value.
basic Cymbal Set
14" Hihat, 18" Crash-Ride
Complete Cymbal Set
14" Hihat, 16" Crash, 20" Ride
Expanded Cymbal Set
14" Hihat, 16" Trash Crash, 18" Crash, 20" Ride