classics custom dark
With an epic character you define in a moment's notice, these are not your standard power cymbals.
We've all been there. Your energy is soaring. Maybe you're with a band, and everyone is really clicking, or you've reached the height of your practice session.
You hit the last chorus of the song, and it feels like it's time to rip open the roof above you.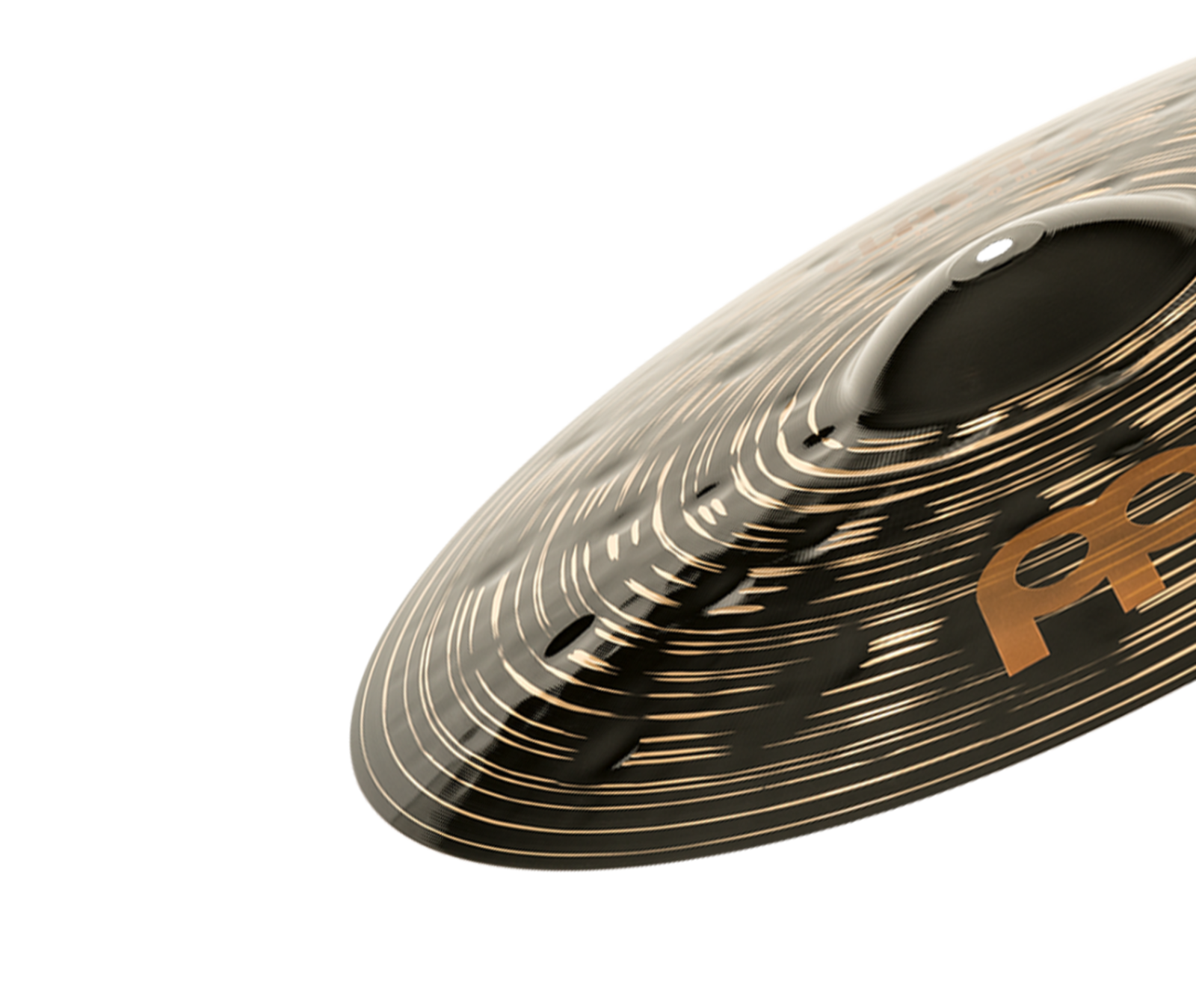 There's no holding back now.
And once it's done, that's when it hits you—you aren't worn out because you haven't been playing through your cymbals. Your sticks may be chewed to pieces but you didn't lose touch with nuance and complexity along the way.
You sat comfortably on top of the mix with a serious punch but without overpowering with a glassy ring.
The best part? You're still ENERGIZED.
This is how we started making Classics Custom Dark cymbals. We put ourselves in the driver's seat and asked how we can get to this feeling. We wanted all the great things that come with power, along with a dialed-in sustain and a shadowy mosaic of complex sound.
Wave goodbye to bright overtones—it's going to get dark.
Classics Custom Dark Cymbals pack a punch. Period.
They are designed for players who need cymbals that cut with agility. They give you plenty of snap to be heard among a dense mix of electric guitars, while their presence echoes the darker nature of a deeply hammered cymbal.
Extra hammering — you'll notice some of the craters are DEEP (hammering darkens and dries the sound while adding tonal complexity)
Additional lathing — bands of exposed brightly colored bronze accent the dark finish to help dial-in overtones
The use of B10 bronze — a solid, reliable and loud alloy that doesn't sound choked when you lay into it
A huge selection of models from standard cymbals to effects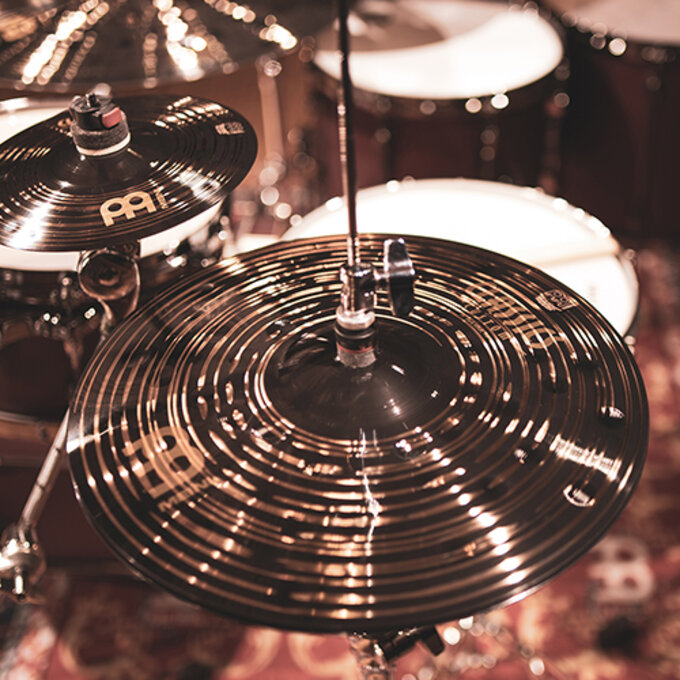 Great for players who rely heavily on switching dynamics or styles. Classics Custom Dark hihats have a unique ability to go from rock and metal to fusion and funk.
When energy calls, these hats jump to life and chop through loud mixes without you having to extrude your sound.
If you're in the mood for more subdued 8th note laid-back grooves, these hats will sit back nicely in the mix and play with a flexible feel.
Available in 14" - 16" sizes.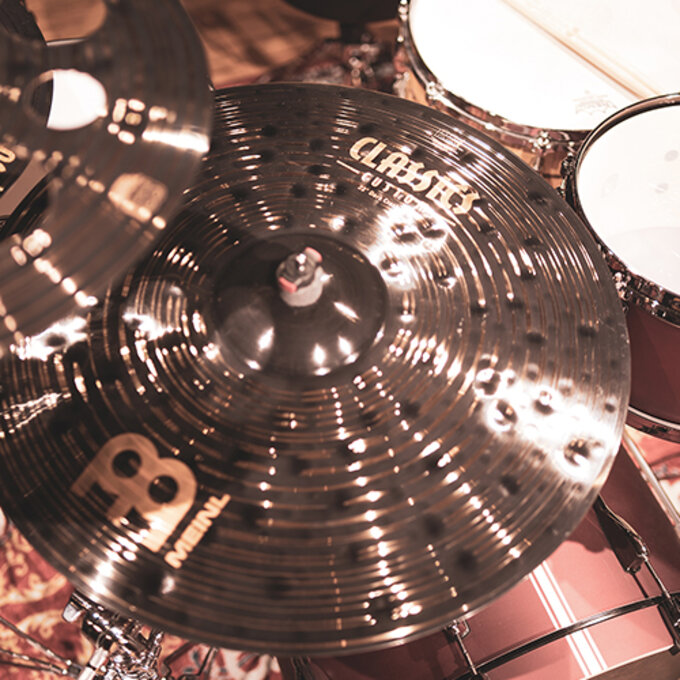 Explosive rides with an edgy, warm tone
You've heard it a thousand times. "A ride that cuts with a nice wash." But maybe you haven't heard about a ride with diamond-like definition and a shadowy, brooding roar.
Fluff veiled in clever adjectives?
Hardly.
Accommodating opposite ends of the spectrum — cutting definition met with darkness and dryness — Classics Custom Dark Rides by Meinl really are the package deal of rides.
Available in 20" - 22" sizes or as a 22" crash/ride.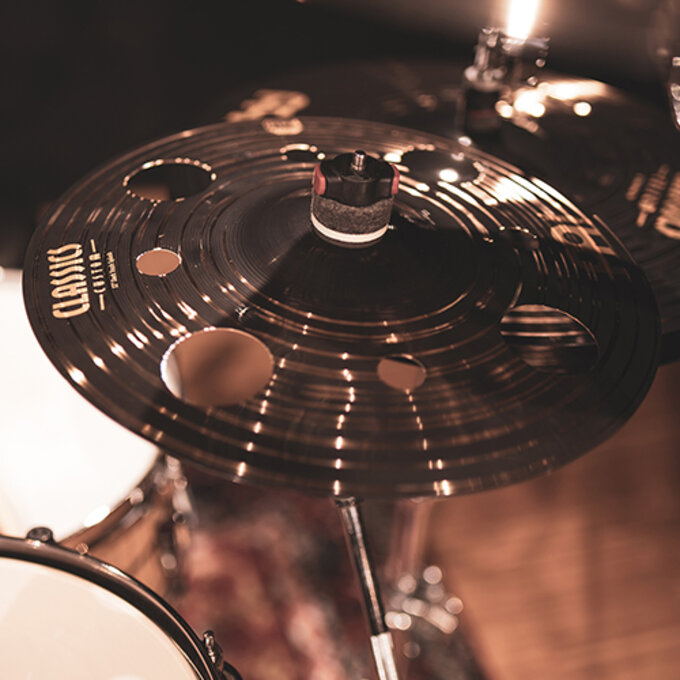 Let's talk about inflection. Whether you're a stand-up comedian or a drummer, communicating it is key to a great performance.
Even with the volume at ELEVEN, nuance must charge through.
And when the neighboring stack of amps begs to differ, you need the right tool to throw a little zest into the impenetrable mix.
We offer a variety of splashes, trash splashes, trash stacks, trash crashes and chinas within Classics Custom Dark to give you plenty of options to outfit your kit with accent cymbals that speak up.
Meinl Classics Custom Dark tech specs
B10 bronze alloy (90% copper / 10% tin)
Extra deep hammering
Lathe formed profile
Dark finish
Aggressive, yet dark and warm
For power or fusion players
Large selection of standard and effects cymbals
Made in Germany