Train more than just your hands
Want rapid improvement? Outsmart your ears.
Even a simple paradiddle is now flipped on its head
Your thighs will thank you. Isolating your hands is an age-old trick to breakdown complex patterns or build up your weak side. So is moving one hand to your leg so you can hear the other by itself.
If you've ever tried this, you know you can only last about 30 seconds before pain sets in.
That's hardly enough time to really drill down into what your hands are doing.
Anika Nilles — she needs no introduction. You may have heard her name if you're into methodical, deep drumming that weaves through music with power and finesse.
To achieve at her level, she relies on hyper-focused practice that develops muscle, endurance, hearing, timing and creativity simultaneously. Like a full body workout, every drumming element is put through its paces.
Your senses don't tell the full story
All drummers can relate — sometimes our delivery isn't as clear as we hear it. Anika knows the most critical part of practice is pulling back the curtain to thoroughly understand and hear your own playing objectively.
She needed a pad that could isolate her hands to hear exactly what's being played in order to train her ears and mind for a better understanding of rhythms and feel.
Replicate your kit
The Meinl Split Tone Pad was developed with Anika Nilles to shine a spotlight on your interpretation of rhythms, patterns, creativity and timing through hand isolation. It also builds muscle.
The great thing about this pad is it allows you to split your hands into two sounds so you can practice your drum kit parts on a single surface while hearing the interplay between your hands.
Here's how.
Judge your accuracy, get creative and build strength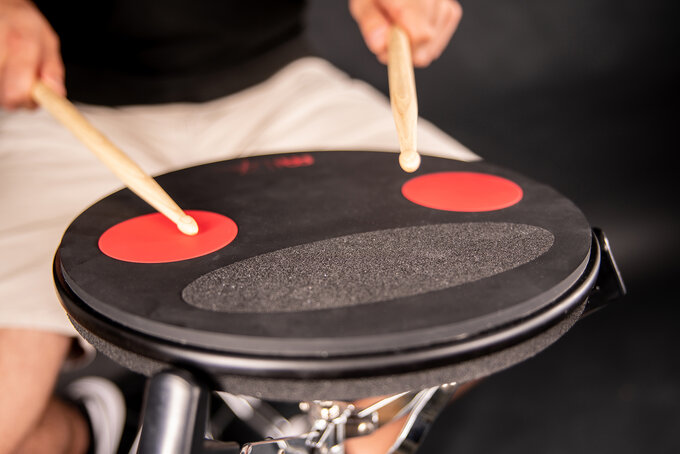 One surface, three sounds
The black pad has a standard tone and feel, while the red dots are higher pitched with more attack. The oval shape at the top consists of soft muted foam.
Take your favorite hand pattern or rudiment and play your dominant hand in the oval-shaped muted section with your weaker hand on either pad surface (black or red).
All your attention will go toward the hand creating the sound so you can iron out any issues.
Splitting your hands also enhances your foundational knowledge of rudiments and patterns, opening up new ways to play them.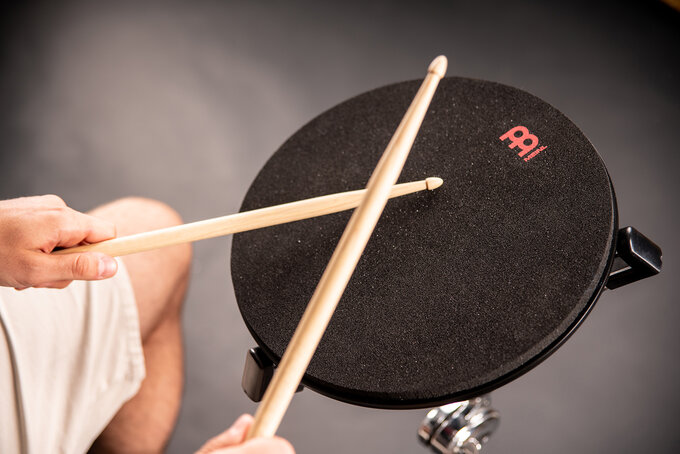 Reversible workout side
Drumming is physical. Building your strength and endurance is key to a powerful performance but also having greater control over all your dynamics.
Flip the Split Tone Pad over and utilize the full workout area. This durable foam pad has minimal rebound, forcing you to put in more physical effort on each stroke. Great if you need a fast and effective warm-up before a show.
This side also doubles as a noise and vibration reducing cushion when you want to use the pad on a flat surface like a table top.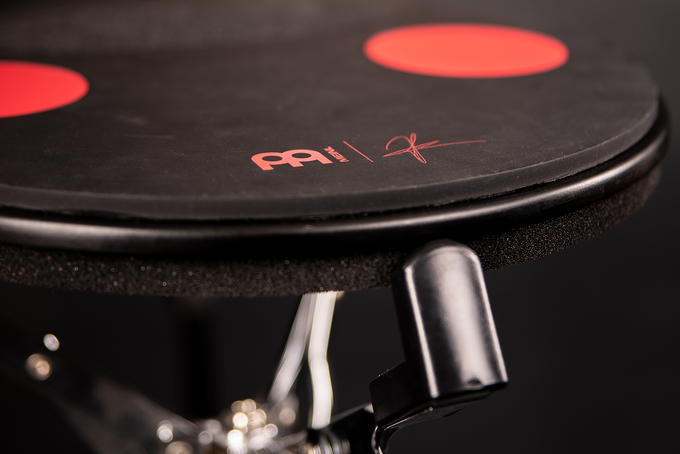 Works with any snare basket stand
The standard 12" diameter of this pad fits in any snare basket stand so you can practice with the right height and angle for you.
A solid MDF center will balance the pad on your stand and gives you a strong, durable area to secure your stand's arms to the pad.
You may use either side of the Split Tone Pad when placing it in a snare stand.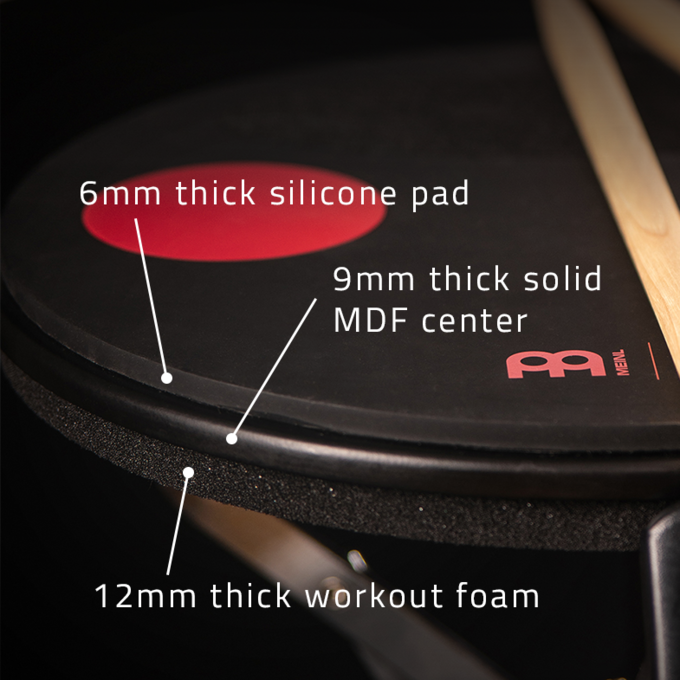 The Meinl Split Tone Pad tech specs
3 different sounds and feels plus a full workout pad on the back
Black = standard pad, red dots = high-pitched pads, oval shape = muted soft foam
12" diameter surface to fit in any snare stand
6mm silicone pad on the top surface with 12mm foam on the workout side
Workout side provides reduced rebound and noise to build muscle
Center material is 9mm solid MDF
Designed with Meinl Cymbals artist, Anika Nilles
Includes exercises written by Anika to get you started on this pad
Advance your routine.
Anika put together two exercises that highlight how this pad can be used to develop your own practice system.
"16th Note Hand Independence"