The memory you'll never forget
And how to make it "just right"
This is the sweetest moment of all. The first time you sit down at a drum set is nothing short of life-changing. It's the kind of experience that stays with you forever, and it's no wonder why.
The way the hihats open and close, the fortress of toms and cymbals—it's mind opening, especially for young players. In this moment, your set has to feel just right. Meinl HCS cymbals are crafted to deliver crystal clear sounds with major advantages that put you steps ahead. Here's how.
Match your heroes—HCS cymbals have the largest selection of standard AND effects cymbals in the brass range for serious sounds and looks to match your favorite drummers' setups
Made in Germany—crafted in our state-of-the-art facility in Germany where we hold our cymbals to the highest standard of sound, feel, quality and creativeness
Durable and musical brass alloy—these cymbals are expertly made out of a strong brass alloy that responds with a clear tone and balanced sustain
Modern sounds fit any style—from crisp hihats that "chick", cutting rides that "ping" and trash crashes that deliver bite and energy, HCS cymbals give you the ability to play any style music
These brass alloy cymbals sound and look fantastic. Not only do they open up new players to the world of possibilities and creativeness that is drumming, but they do it at an affordable budget.
These cymbals are ideal for beginner students as well as teachers outfitting their kits with cymbals in a lesson studio.
Made in Germany.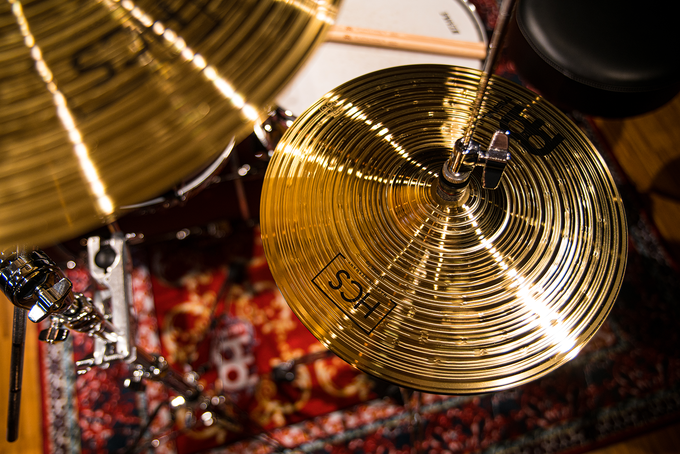 Hihat cymbals: the #1 most important cymbals for ANY drum set
If you're ready to play but don't have much direction or influence yet, you are going to want to begin with hihat cymbals. Hihats, along with bass and snare drum, form the most basic time-keeping "ingredients" needed for drum set playing. Hihats are a pair of cymbals mounted on a pedal activated stand that brings them in contact with each other (imagine a "chick" sound).
Meinl HCS hihats (sold as a pair) are specially weighted so the bottom cymbal is slightly heavier than the top cymbal.
Why does this matter?
Having the weight arranged this way enhances the crisp "chick" sound the hihats create while giving them a better feel. Look for the "top" and "bottom" stamps to know which goes where on your stand.
Available in 13" - 15" sizes for the most common personal preferences.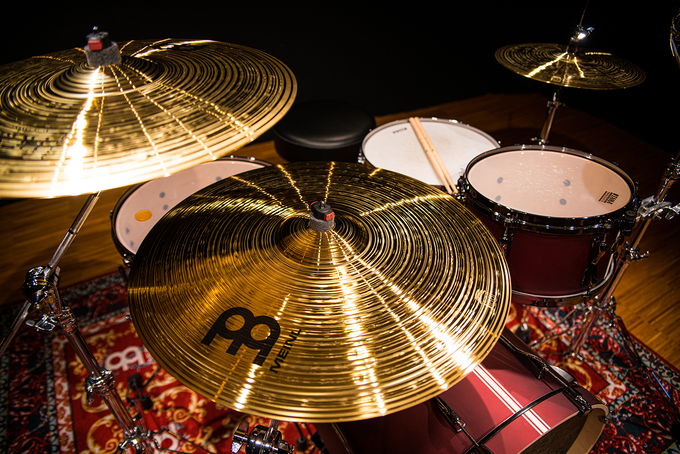 The ride cymbal: from jazz to rock, this cymbal is essential for playing any style of music
The ride cymbal is as important of a time-keeper cymbal as hihats (think of a "ping" sound), and it's often used with hihats to form a basic, starter cymbal set. Ride cymbals typically range from 20" - 22" in diameter, making them the largest cymbal in most setups.
When you're ready to add a ride to your set, we have a few options to carefully consider.
Our standard 20" ride is, by far, the most common type of ride cymbal and will perfectly suit any drummer. With its clean, bright sound and cutting bell (the raised cup in the center), the Meinl HCS ride fits all styles.
Our ride is also available as a 22" for players who prefer larger cymbals.
Crash/rides are also very popular, and we have models available in 18" and 20". This cymbal is a hybrid of a crash cymbal and a ride if you're looking to cover these sounds with one cymbal.
Crash cymbals: build out your own unique setup or match your favorite pro
These cymbals provide punch, flair, accents, energy, crescendos—you name it. In their most basic form, crash cymbals emphasize the first beat of a measure. They are typically struck with a glancing blow toward the edge together with a bass drum note. They're also great for playing big, rolling crescendos at the end of a song.
Meinl HCS crashes deliver a bold attack with a balanced sustain (ring), and their response fits in with any volume level. Our standard crashes come in 14" - 18" sizes to accommodate any setup or style.
Most professionals have more than one crash in their kit for extra sound options, and HCS crashes come in a variety of sizes and sounds. Smaller HCS crash cymbals give you a high-pitched sound, while our larger crashes deliver a longer sustain with a lower pitch.
Personal preference will help you decide the right size and amount of crashes in your set, but having at least one crash with a hihat and ride is widely considered a basic "complete" set of cymbals.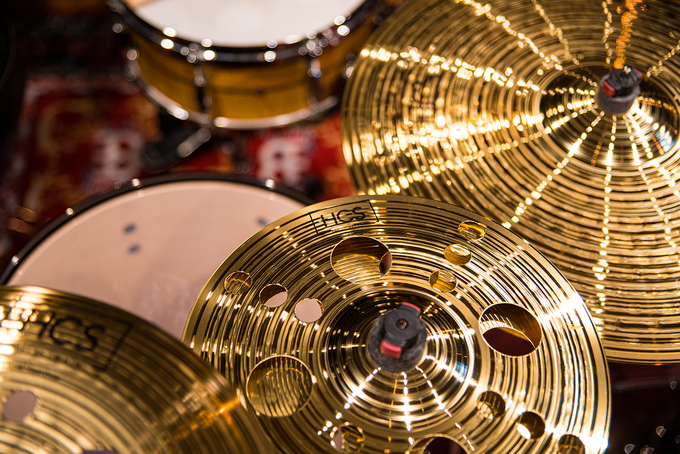 Splash and effects cymbals: complex sounds outside the standard
HCS splash cymbals are great for adding small hints of cymbal color where you want a quick response that fades away fast. These come in 8", 10" and 12" sizes.
One of our most popular effects cymbals is our trash crash. This crash cymbal features specially cut-out holes that increase trashiness and "dry" the cymbal out, meaning it reduces the ring. Available in 16" and 18" sizes. Trashy refers to a cymbal sound that is earthy, gritty and dirty. The "trash" sound is a VERY popular trend in today's music.
The most common effects cymbal is the china. This cymbal is marked by its upward facing lip around the edge that gives it a unique gong-like sound. HCS chinas range from 12" - 18".
Next, we have our trash stacks. These cymbals come in pairs and feature hole cut-outs for a sloshy effect when you stack them together on your stand. Great for power and energy. Sizes range from 12" - 16".
Finally, the HCS 8" bell is a great accompaniment to any kit with its ultra-long sustaining ring.
Meinl has been making world-class cymbals since 1951, and our experience taught us to include all professional level cymbal types in our HCS series. After all, the best way to learn is by playing, practicing and setting up like your heroes.
Every HCS cymbal passes through the hands of experts in our state-of-the-art facility in Germany, and we are proud to offer the widest brass cymbal selection with the clearest sound quality.